Welcome to NEMC 2017
August 7-11, 2017
Grand Hyatt, Washington DC
The table below summarizes registration fees:
| | | |
| --- | --- | --- |
| Symposium Registration1 | Full Conference | Daily |
| Attendee Registration | $495 | $225 |
| Participant2 | $395 | $195 |
| EPA Employee | $325 | $160 |
| Student | $195 | $75 |
| Late Fee (after July 17) | $75 | $75 |

You may register now using our on-line registration system.

You may also register by completing the registration form (PDF) and sending to:
The NELAC Institute
PO Box 2439
Weatherford, TX 76086
FAX: 817-623-4777
Email: [email protected]

Notes:
1. Symposium registration includes participation in all meetings, all printed materials, continental breakfasts, and lunches on Monday, Tuesday and Thursday. Four free vendor-sponsored lunches are also available on Wednesday.
2 A Participant is an NEMC Session Chair, a speaker at NEMC, or a member of a TNI Committee or Board.

CANCELLATION: If you cannot attend, notification must be received by August 1. You may either send a substitute or receive a refund, less a $75 administrative fee.
Science Communication 101
Funding is scarce. Anti-science rhetoric is on the rise. Policymakers often fail to grasp the research necessary to make informed decisions in the best interests of their constituents. But empirical data suggest that good science communication both empowers citizens and benefits the careers of scientists. This half-day workshop helps scientists develop communication skills and put those skills into action by:
Exploring the empirical benefits of communicating science
Learning to answer difficult, controversial, and critical questions from the media
Tweeting, blogging, writing op-eds, and presenting research to engage the lay public
Preparing policy briefs
Engaging with policymakers and funders
Date and Time: Wednesday, August 9; 1:30 pm - 5:00 pm
Instructor: Jory Weintraub, Duke Initiative for Science and Society
Fee: $45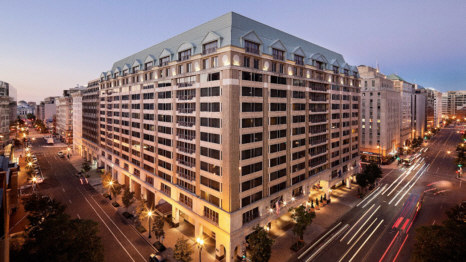 Grand Hyatt Washington

1000 H Street NW
Washington, DC 20001
Tel: +1 202 582 1234

washingtondc.grand.hyatt.com (for general hotel information only)

Special advance registration rates of $172 per night (single or double) can be obtained by calling the hotel directly before July 17, 2017 or using our secure on-line registration system (click here).
Grand Hyatt Washington is located in the celebrated Penn Quarter neighborhood, just moments away from CityCenterDC. See top sights, from The White House to museum after museum, or traverse the city's rich dining and nightlife scene. While at the hotel, dine at the signature restaurant, grab brunch, or sip Starbucks® coffee. Access the FIT Club next door and work out or swim laps in the pool. If you'll be working during your stay, we offer a fully equipped FedEx® Business Center.

Transportation
From/To Ronald Reagan National Airport:
Taxi: Taxis are available outside the baggage claim area. Fare is approximately $14 - $18 (10-20 min).
Metro Subway: Take the Blue line from the airport to the Metro Center Station. The hotel is 3 blocks from the station. Alternatively, take the Yellow line from the airport to the Gallery Place Chinatown Station. The hotel is 4 blocks from that station. Fare is approximately $1.35-$1.75 (about 25 min).

The exhibit program begins with a reception on Monday and concludes following the break on Wednesday afternoon.
In 2017, we are offering several options:
Lunch sponsorship opportunities on Wednesday where you provide information about a topic of your choosing for 50 individuals.
An opportunity to have a Powerpoint ad visible at general sessions.
An opportunity to purchase a one-day registration for customers in the local area.

Why Exhibit?
Support the efforts of the Symposium to bring innovative ideas to the environmental monitoring community.
Raise the profile of your organization and the work you do!
Take advantage of networking opportunities with decision-makers, government and industry leaders, and researchers.
Develop direct client relationships.
Develop new prospects.

Exhibition Schedule:
Monday, August 7, 2017
5:30 pm to 7:00 pm
Reception
Tuesday, August 8, 2017
7:30 am to 8:15 am
10:00 am to 10:30 am
3:00 pm to 5:00 pm

Breakfast
Morning Break
Afternoon Breakout
Wednesday, August 9, 2017
7:30 am to 8:15 am
10:00 am to 10:30 am
3:00 pm to 3:30 pm


Breakfast
Morning Break
Afternoon Break
Please Note: If you select the Exhibitor Only option ($1250), you cannot exhibit during the Monday reception.
What Our Exhibitors Have Said:
"After years of exhibiting at EMS, this conference has become the highlight of our event calendar.  The organizers go the extra mile to ensure numerous opportunities to interact with the environmental community allowing for one-on-one exchanges and in depth conversations. Each year we walk away with the benefit of connecting with current customers and prospective clients." Julie Smith, Calibrate, Inc.
"NEMC brings us face-to-face with many of the leading environmental labs in the US affording us the opportunity to meet with and thank our customers for their business." Joe Konschnik, Restek Corporation
"SPECTRO keeps coming back to exhibit at the EMS conference each year because it is the perfect venue to interface with decision makers in the environmental market." Bob Dussich, SPECTRO Analytical Instruments, Inc.

Download the Exhibitor Prospectus (PDF)

UPDATE: The Exhibit Program for 2017 has been sold out!
If you have any questions, contact the NEMC Exhibit Coordinator, Joel Holtz, at [email protected].