Welcome to NEMC 2018
August 6-10, 2018
Hyatt Regency, New Orleans, Louisiana
The table below summarizes registration fees:
Early Bird Fees3
Standard Fees

Registration Type1

Full Conference
Daily

Full Conference

Daily

Attendee Registration

$495
$225

$545

$245

Participant2

$395
$195

$445

$215

EPA Employee

$325
$160

$350

$180

Student

$195
$75

$215

$75

Friday Only
$135

Late Fee (after July 17)

$75

$75
You may register now using our on-line registration system.


You may also register by completing the registration form (PDF) and sending to:

The NELAC Institute
PO Box 2439
Weatherford, TX 76086
FAX: 817-423-6777
Email: suzanne.rachmaninoff@nelac-institute.org

Join us for a dinner jazz cruise on the Steamboat Natchez on Wednesday evening. Tickets for this cruise can be purchased from a link you will see when you complete your registration or by going to https://iattend.net/EventHome?id=boat18

Notes:
1. Symposium registration includes participation in all meetings, all printed materials, continental breakfasts, and lunches on Tuesday and Thursday. Three free vendor-sponsored lunches are also available on Wednesday.
2 A Participant is an NEMC Session Chair, a speaker at NEMC, or a member of a TNI Committee or Board.
3 Early bird rates are for individuals that register before June 9.

CANCELLATION: If you cannot attend, notification must be received by July 31. You may either send a substitute or receive a refund, less a $75 administrative fee.
Understanding Radiochemistry Testing and the TNI 2016 Standard - ASTM D7283 and EPA 906.0 (Liquid Scintillation Counting)
Using ASTM Method D7283, ASTM Standard Test Method for Alpha and Beta Activity in Water By Liquid Scintillation Counting, and EPA Method 906.0, Tritium in Drinking Water, as examples, this course will provide participants with a general understanding of the theory behind the radioanalytical techniques used, and applicable requirements of TNI 2016 Standard Volume 1 Module 6 (V1M6). A mixture of theory-lecture and interactive exercises using real laboratory data examples will help participants see how analytical processes translate into actions, results, and records that one might encounter in a typical radioanalytical laboratory. It will also address typical challenges that may be encountered. This class will be of benefit both to radiochemistry laboratorians and radiochemistry assessors. Topics addressed will include:
Method scope, application, and limitations;
Radioactive decay;
Radiochemical preparation;
Sample test source preparation;
Liquid scintillation counter (LSC) set-up, performance checks, efficiency and cross-talk calibrations, and background determinations;
Calculation and reporting of results and associated statistics (i.e., counting uncertainty vs. combined uncertainty, critical level vs. minimum detectable concentration vs. SDWA Detection Limit, chemical yield);
Common problems and challenges encountered with these methods;
TNI Standard Volume 1, Module 6 requirements as they relate to the two methods.
Date and Time: Friday, August 10, 8:00 am - 5:00 pm
Instructor: TNI Radiochemistry Expert Committee
Fee: $195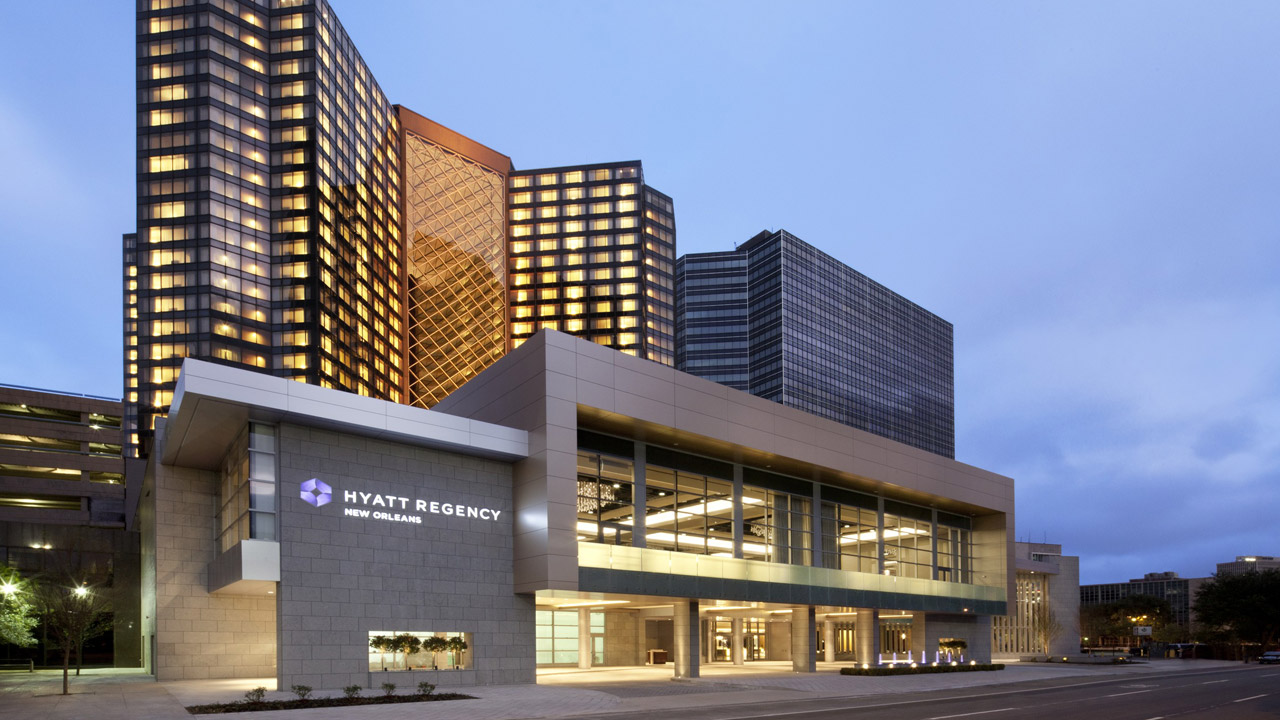 Hyatt Regency New Orleans

601 Loyola Avenue
New Orleans, LA 70113
Tel: +1 504 561 1234

neworleans.regency.hyatt.com (for general hotel information only)
Special advance registration rates of $109 per night (single) or $134 (double) can be obtained by calling the hotel directly before July 6, 2018 or using our secure on-line registration system:https://aws.passkey.com/go/NELACSymposium2018
Experience the best of the Big Easy at our award-winning downtown New Orleans hotel. Located right next door to the Mercedes-Benz Superdome, Smoothie King Center and Champions Square, Hyatt Regency New Orleans offers easy access to the area's most popular attractions. Hop on the Loyola Avenue Streetcar, or take a walk to the historic French Quarter, Arts District, Audubon Aquarium of the Americas and the scenic Mississippi Riverfront.




Transportation
From/To Louis Armstrong New Orleans International Airport:
Taxi: Taxis are available outside the baggage claim area. Fare is $36 for up to 2 passengers, or $15/person for 3 or more passengers. (25-30 min).
Ridesharing: Uber and Lyft offer transportation services to/from the airport. Passengers can meet their service in the Ground Transportation Center located on the first floor of the Short-Term Parking Garage.
By Shuttle: Shuttle service is available from the airport to hotels and various other locations in the New Orleans area for $24.00 (per person, one-way). Passengers can purchase tickets at the Airport at Airport Shuttle ticket booths located on the first level throughout the Baggage Claim area. Please visit www.airportshuttleneworleans.com for more information.
By Car: Head northeast on Airport Rd, then take Interstate 10 E toward New Orleans. Take I-10 east about 10 miles to exit 234B Poydras St. Continue on Poydras St. 0.5 miles, then turn right onto Loyola Ave. The hotel will be on your right.
As in previous years, an exhibition will occur during the conference. Exhibit information for NEMC 2018 will be posted here when available.